Weekly, bi-weekly, or whenever weekly, we'll try and keep you up to date on records worth watching for (Look Out) and records worth grabbing (Just Out).
LOOK OUT
Rockbottom Records
has been a favorite for a while (check out the Humanoids 12" as soon as possible), so it's always nice to hear about new material. Especially when it's a slew of EP's from bands like Loser Life and the Conversions. The site just upped some new tracks by Autistic Youth and Loser Life, so keep your eyes peeled for them.
Immediate future: RBR#9:
American Cheeseburger
/
Canadian Rifle
7", RBR#10:
Loser Life
"Life Number 2" 7", RBR#11:
Autistic Youth
7"
Not too distant future:
Canaveral
7",
Humanoids
7", Lost Boys 7", The Conversions 7"
Shorebirds owe me some more material before I wear out the self-released EP from last year. Latterman and Jawbreaker alums do it right, and they should be doing it even better soon. Expect some new material off a comp and the bigger news, a summer release for the debut twelve song full-length "It's Gonna Get Ugly" on
Rumbletowne
.
Going Underground Records
can't stop won't stop, nor should they. Two new releases expected for May, both of which you will get: So Cow 7" and
Harpoon Guns
7". Especially don't miss the HG.
16oh
looks like they're finally going to stop teasing and start delivering on the Bookburner 7". All the parts are finally in, so the release should be right around the corner. Now if only we could do something about that Neighborhood Threat 7"...
Clean Plate
may be a bit inoperative right now due to Will Kill's heavy everything schedule, but once he's back from the Ampere tour in June, expect a confirmed treat, the Failures LP (like Ampere? like Das Oath? like this) and a hopefully not too distant announcement about the Aerosols LP.
JUST OUT
Christ on Parade "Loud and Live" LP. Prank was kind enough to rerelease "Sounds of Nature" recently, and now a new gift: 13 live tracks from the 2007 tour. All original material, all killer. You know what this sounds like, so get it. Released by
Prank Records
.
Endless Blockade
"Primitive" LP. Split, split, split, full length, and now another one. All brutal, all the time. Limited cover gone, but plenty of the regular still available. I suggest you get this already. Released by
20BuckSpin
.
Flaws "Erect Nation" LP. Stumbled across this while being curious about Tiny Hawks. Featuring members of Tiny Hawks, Palatka, etc., you owe it to yourself to try and find it (these dudes give "off the radar" a new meaning). Exactly how you'd expect all those bands to sound wrapped up into one. Released by Obscurist Press.
Running for Cover "Dark Well" LP. Oh, you're into hardcore? Power violence, you say? Running for Cover provides a reality check for all those newjacks who need it. Seriously, listen to the drums. Released by
Art of the Underground
.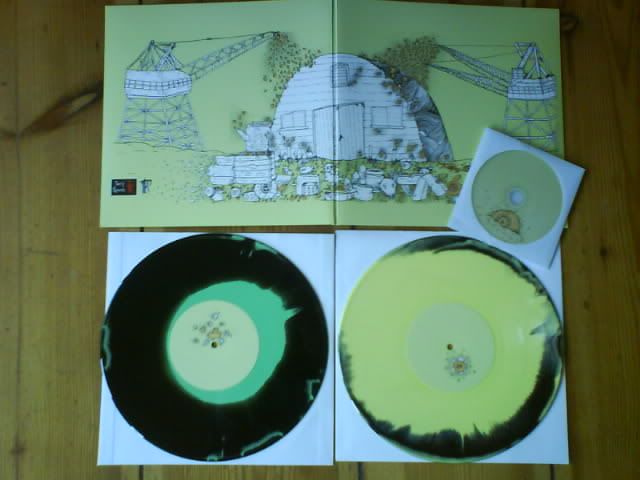 Who Calls So Loud 2x10". This is some packaging, and some wax. Ex-members of Funeral Diner pick up where Funeral Diner left off. That's about all the info you need. Released by Sorry Records and Adagio830. A bit pricy, so try to track down some local distros for this.